Statisticians, economists, and researchers from around the world gathered at NYU Shanghai August 12 to 16 for  the 2019 Society for Financial Econometrics (SoFiE) Financial Econometrics Summer School. Hosted by the Volatility Institute at NYU Shanghai (VINS), the week-long research-based course in statistics, econometrics, and finance is aimed at Ph.D.s students, researchers, and junior faculty. This is the second year that VINS has hosted the SoFIE Summer School -- previous hosts of the summer school include Oxford, Harvard, and the Kellogg School of Management, Northwestern University.
This year's course focused on the topic of derivatives, an emerging field in China's financial sector. "Derivatives are becoming more and more important since the first option was adopted by China four years ago," said NYU Shanghai Professor Zhou Xin, executive director of VINS. "As more derivative financial instruments appear in China's financial market, we thought it was the right time to invite well-established scholars to share perspectives and insights from a more mature derivatives market."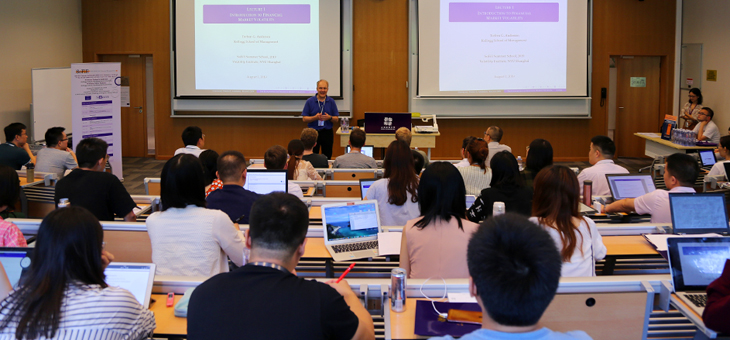 78 young scholars at the first lecture, which introduced high-frequency return measures, continuous-time finance, and basic option pricing techniques.

This year's featured lecturers are both renowned scholars at the Kellogg School of Management at Northwestern University. Professor of Finance Torben G. Andersen and Professor of Risk Management Viktor Todorov have been colleagues for the last decade, and have been collaborating on their study of derivatives markets since 2013. Their interdisciplinary research combines probability, statistics, finance, and economics on practical and theoretical levels.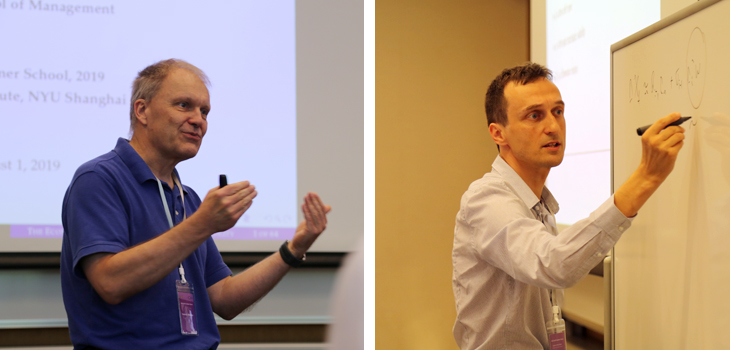 Professors Torben G. Andersen (left) and Viktor Todorov (right) lecturing at the 2019 SoFiE Financial Econometrics Summer School
"The derivatives market is a fast-evolving area," said Todorov. "Compared with our first time teaching on the same topic in 2017 SoFiE Summer School, we have advanced with the times by utilizing new instruments and products produced by the market to illustrate its development and applications."
The two professors said they were motivated to make the trip to Shanghai because of the students and participants. "We knew it would be a good opportunity to interact and learn new things from those young scholars," said Andersen. "We have been impressed by the questions they asked and the examples they gave in class."
78 students from universities such as Boston University, McGill University, the University of Warwick, University of Muenster, Shanghai Jiaotong University, and Nanyang Technological University Singapore packed into NYU Shanghai's classrooms this summer. The course was so popular this year that 30% of applicants had to be turned away.
 "I think we've been successful because we design the sessions to be interactive as well as informative," said Zhou. "Also, we kept tuition costs low because we are not motivated by profit."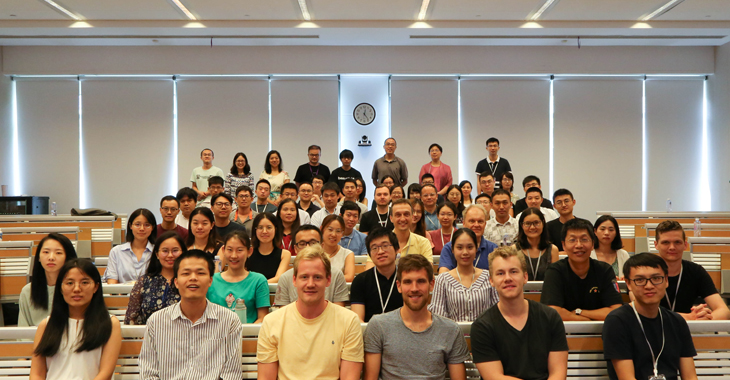 Students at the 2019 SoFiE Financial Econometrics Summer School
Wang Yifu, a Ph.D. candidate from Southwestern University of Finance and Economics, attended the summer school last year. He said that the visit to the Shanghai Futures Exchanges in 2018 convinced him to sign up for the 2019 summer school "without hesitation."
"NYU Shanghai offered an extraordinary learning experience, and the course is closely-related to my research in high-frequency financial econometrics," said Wang.
University of Münster Ph.D. candidate Thomas Gruenthaler said the summer school was a great opportunity to meet and have in-depth conversations with his peers. "It was very well-organized, and has been the best experience in my young research career so far. It has motivated me to study harder," said Gruenthaler. "The two professors not only teach you the basics of derivatives or options intuitively, but also mix them with the latest research." 
"We plan to host the SoFiE Financial Econometrics Summer School again next year, because it ties in with the Volatility Institute's strategic vision of encouraging a global dialogue, and becoming a central hub for scholars," said Zhou. "We want to create an academic community that will benefit China's markets."